After completing Sa Calobra on many an occasion and always wondering what was on the road that turns to the left about 4/5ths of the way down the descent, we made it our mission to go and investigate and see what cycling Cala Tuent was all about.

After the obligatory photos at the top of the Coll dels Reis we then enjoyed the thrill of the 10km descent into the Port of Sa Calobra. After deciding not to stop here we turned and began the return climb until we reached our entrance to the right after a flattish 2km which is signposted Cala Tuent / Es Vergeret restaurant.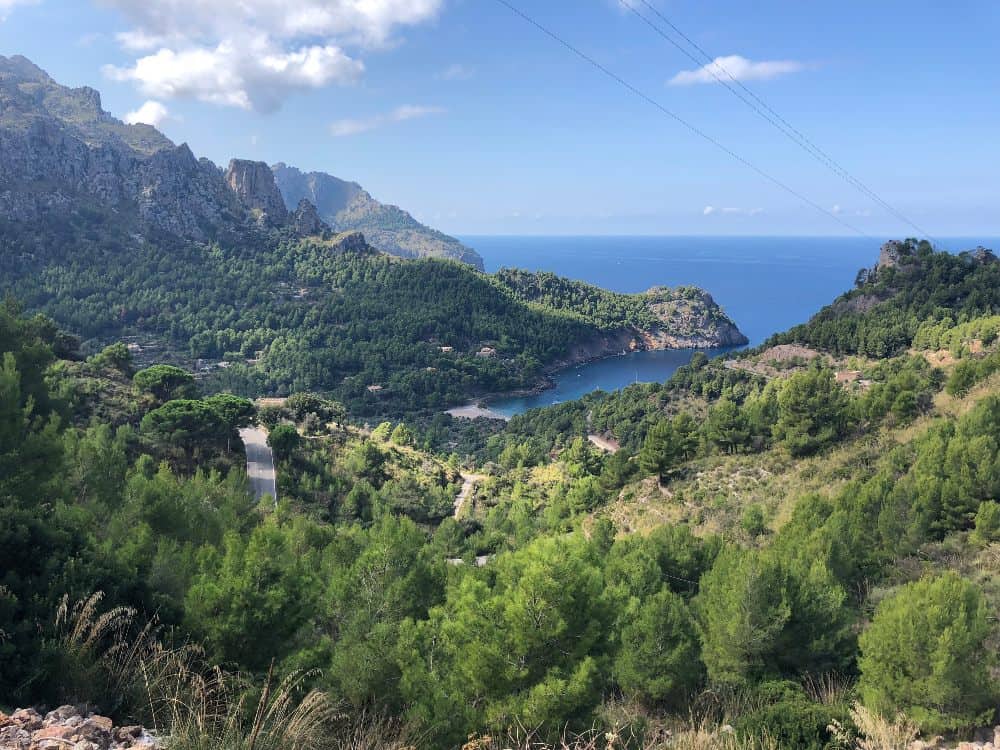 At this point every other cyclist continued their winding ascent as we left the main road to start our out and back scenic additional 10.5km (with 334m of climbing) route. Almost immediately we were met with a 7% climb for about 1km, which was a bit of a shock to the legs after the long descent into the Port. We felt like we had found a secret route, the tranquility was a joy, no cars (no buses either even though it was approaching lunchtime in the middle of October) and no other cyclists.    
Our hard work was soon rewarded with the sight of the Ermita De San Lorenzo museum and the mirador (view point) from which we could see the stunning turquoise bay of Cala Tuent which took our breath away. We were surprised how much of a descent we needed to do to get to the bay and talked about bailing, because what goes down must come back up, and not only that, once we rejoined the main road we had most of Sa Calobra to climb out of too.
But being cyclists in Mallorca who love an adventure, we laughed and joked and took a silly pic or two to demonstrate the 'horror' of what our legs would need to endure on the return trip. The hairpins were a beauty to ride, smoothly taking us down to the beach and beautiful blue sea. 
We had phoned ahead to ensure the only restaurant would be open, so we knew we would be able to have a meal on arrival. There is not much else, if anything in this tranquil bay in terms of food supplies, so ensure you go prepared.  The restaurant has a beautiful terrace overhanging the sea and a lot of its customers on this particular day arrived by boat. We sat and relaxed for probably 90 minutes enjoying the vibe, the sunshine and a delicious bowl of seafood spaghetti – plenty of carbs for the legs. The restaurant does sell cake and coffee or ice creams if you would prefer a quick light snack.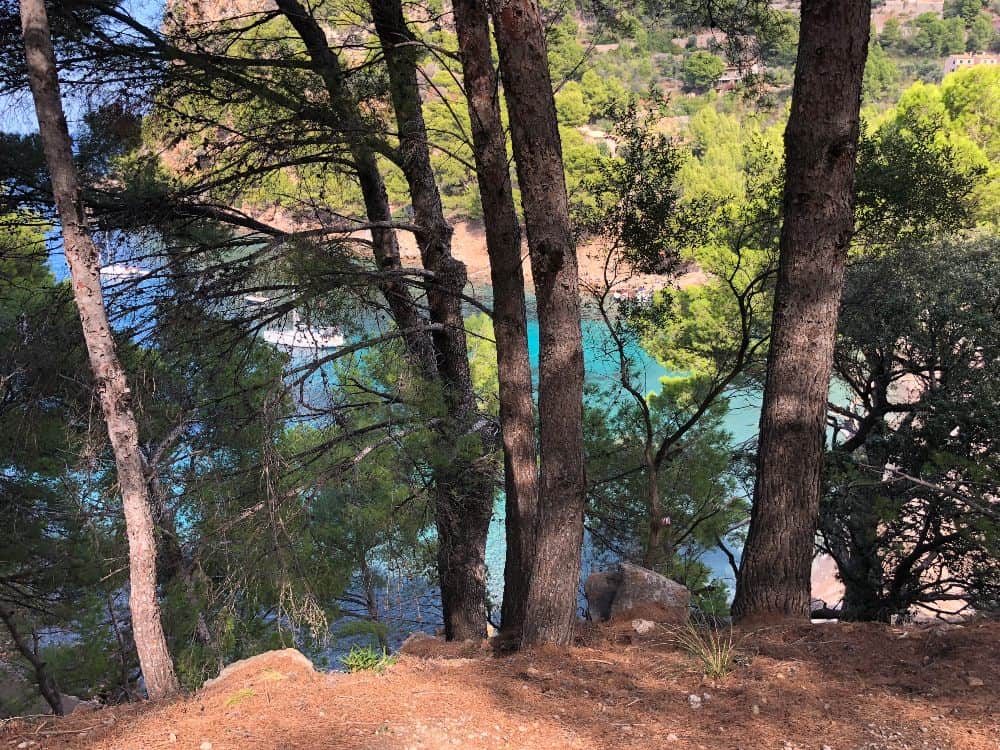 After lunch , we started our journey up the little climbs to get back to the Sa Calobra road. They were a delight, easier than I thought they would be. The spaghetti was perhaps helping us? We weren't in a rush, so just weaved our way back up and out onto the main Sa Calobra climb, where we soon joined other cyclists heading up to Coll dels Reis. We felt rather smug that we had seen a different section of the mountains and enjoyed the beauty and tranquility at Cala Tuent.
The afternoon sun was just starting to dip behind the mountains as we reached the top of the Coll dels Reis and had a mini celebration of what we had achieved. After completing Sa Calobra numerous times on previous holidays and on every occasion wondering what was on the left hand turn as I squealed down the descent I now knew! 
Yes it is hard to change a habit and break the joy of improving your time on the amazing Sa Calobra climb but wow there were some outstanding views, spectacular crystalline sea and quiet roads to be enjoyed. Cycling Cala Tuent is a treat and if you are coming to cycling paradise it would be a shame to not have a little peep at something else most people miss.
If you want to include Cala Tuent in your Sa Calobra climb this year, here are some routes you may enjoy that can easily include this additional 10.5km gem. We run the Sa Calobra Express which drops off at the OJ shack under the in case you are limited for time or want to do the climb with fresh legs. Booking here.
With the Sa Calobra routes being a hotspots for breakdowns, here is a link to our Mallorca Bicycle Rescue service in case bike or body break down!
Contact details for Es Vergeret restaurant can be found here https://www.esvergeret.com/en/contact Open March to October, closed Mondays.
Alison & Ken Reavy.