Hotel or Villa?
Which better suits your cycling group?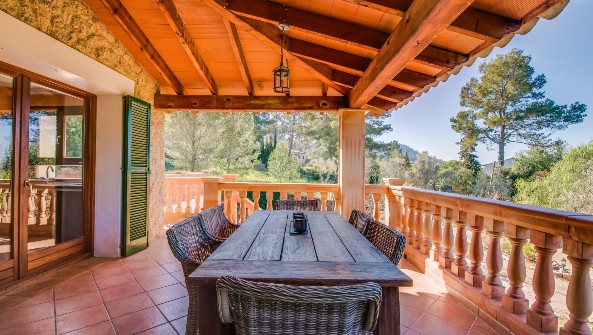 Hotels historically have been where all the action is, but now more and more groups are successfully trying the alternative villa options with great results.  Bike Villas Mallorca is leading the way. 
A description of one of their leading villas shows why it gets top reviews: Son Flora is ideal for cycling groups and is certified to be Cycling Friendly. The villa is very spacious and fully furnished. 
Situated 10 minutes cycle outside the nearest town on a large peaceful plot of land with several beautiful terraces with stunning views of the Tramuntana Mountains.

7 bedrooms with 1 or 2 single beds (can also be made up as 1 double bed). 

3 bathrooms with bath and shower plus 1 outdoor bathroom 

2 living rooms 

2 kitchens (with all amenities). 

Air conditioning, fans, smart TV (with all international channels) and WIFI. 

For the colder periods we have two fireplaces, air conditioners and radiators.

6m x 4m very private pool, surrounded by a sun terrace with outdoor shower. 

Large BBQ area

Lovely garden

Laundry room with washing machine

Large driveway with secure parking.
The beautiful town of Alaró is about 10 minutes cycle away with many restaurants, shops and supermarkets. Alaró is very centrally located at the foot of the Tramuntana Mountain which makes an  ideal starting point for discovering the unlimited cycling opportunities on the island. Palma and the airport is about 30 minutes away. 
If you want a fully inclusive stay with us to make the overall choice comparable to any of the hotels we offer catering, a shopping service, car rental, bike rental, bicycle maintenance, and airport transfers. Or just your stay.  The choice is yours! 
Villas versus Hotels –
will your visit be better in a hotel or in a villa?
Privacy and Noise
Villas offer more privacy. Typically, rental villas are private homes where your neighbors are not on the other side of the wall, ceiling or floor as in a hotel. Your villa's pool, garden, garage etc are not shared.
Food
Greater choice at the hotels, but you get to choose exactly what you choose to make or what you choose to have made for you at the villas. 
Location
You get to choose your hotel or villa so you get to choose you location. Access to routes obviously plays a large part, but so does the after and before cycling facilities. Villas are generally out of town meaning you have to travel to a restaurant or bar, where from a hotel you can normally just walk down the street.
Villas can be isolated. The flip side of villas' added quiet and privacy is that you're not near the action. If you like to stay close to attractions and nightlife, a villa rental is likely to fall short.
Space
Hotels rooms are usually more cramped and communal areas are larger but usually filled with more people. Villa rooms are usually more spacious and only filled with members of your group. Villas are generally more suitable for groups. With multiple bedrooms and bathrooms, plus kitchens and lounge areas, villas can provide a better "friends and family" experience than a block of individual hotel rooms.
Price
The larger the group, the larger the villa and the smaller price per head. For example for Villa Flora above:
The price per night for the whole villa in April 2020 is 365 euro and for October 2020 it is 420 euro. 

The price per night is based on 12 persons and includes cleaning costs, use of electricity/water and bed linen/towels. The price does not include tourist tax. Deposit is 250 euro.

The price for full catering (breakfast, lunch, dinner) is 40 euro per person per day, half board of just breakfast and dinner is 30 euro per person per day.
Facilities
Cycling friendly hotels and villas in Mallorca have great facilities. I think the choice comes down to whether you want to share them with strangers (who may also become friends!) or not.
Services
No room service at the villa, but the kitchen is right there! Restaurants and bars will usually be readily accessible from the hotel, but most decent size villas have a bar, fully equipped living rooms and of course a kitchen or two. Personalised services in villas versus standardised services in hotels.
Transfers
Mallorca Cycle Shuttle provide private airport transfers in Mallorca to hotels and villas, and also bike shuttles to the start of the best routes on the island. From hotels you can take advantage of either our scheduled or private shuttles. From villas our private shuttles are available.
As a cyclist coming in Mallorca, where would I choose to stay? 
If I was coming in a small group I would stick with one of my favourite hotels, the Hoposa Uyal or Hoposa Daina, the Portblue Club Pollentia or the (now) Cabot Pollensa Park. If I was coming with a larger group I would definitely choose a big villa and go all inclusive as well as ensuring that on one or two evenings we would arrange transport to the nearest town to enjoy the restaurants and bars.
For further info on how Ed and his team at Bike Villas Mallorca can help you with your cycling accommodation, get in contact with them here.